Connecting Devices to Atmosphere
Atmosphere makes it easy to connect your devices to it. Any device with Atmosphere firmware installed is capable of being connected to Atmosphere. Users with a Developer plan account may connect up to five devices, and each device is granted 10MB of cloud storage for its data.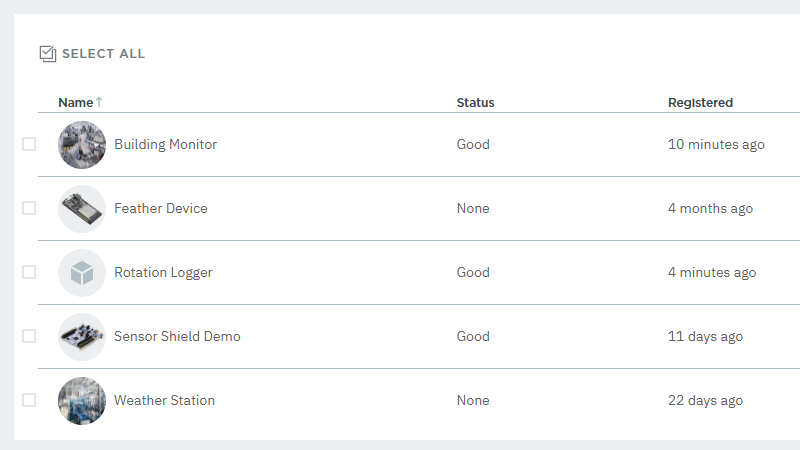 Once connected to Atmosphere, the device can be viewed, configured, have its data displayed and analyzed, and more.
Supported Hardware
Supported hardware refers to any end device that is compatible with Atmosphere. These devices also have a corresponding Atmosphere project type. After you create a project for and program its embedded firmware into that device, the device is able to be registered to Atmosphere. Hardware natively supported by Atmosphere primarily consists of development kits and boards used for prototyping new IoT applications. Development kit project types are referenced by the kit's name.
For information on the wide selection of hardware used in Atmosphere, visit Supported Devices.
If a development kit is used in combination with additional hardware to expand its functionality such as a sensor shield, it may be used if the additional hardware in question is also compatible with Atmosphere. Such hardware is available to be developed with in Atmosphere through importing dedicated sensor elements into the Element Toolbox.
For more information on the available sensor elements, visit Element Types.
Registering Devices
Registering a device enables it to be viewed on Atmosphere. Once registered, you can see the device, interact with it through its interface, and see its data on Atmosphere.
There are a few prerequisite conditions for registering a device:
The device has an Atmosphere project made for it, and the project firmware is programmed into it
The device is powered on
The device either has a Bluetooth Low Energy (BLE) connection, or is connected to your computer via a UART connection (available COM port) and the Atmosphere IoT Agent is running

If the device connects via BLE, it must be within Bluetooth range in order to appear on the list of available devices when adding a new device. Once registered a BLE device will be displayed on Atmosphere under your list of Devices, but it will only retain its connection (and send data to Atmosphere)
In the case of devices that support BLE and Wi-Fi (such as an ESP32), the device is initially registered via BLE, and then you can optionally enter Wi-Fi network credentials. Once network settings are added, the device remains connected to Atmosphere over Wi-Fi.
If the device connects via Wi-Fi or cellular, the Atmosphere IoT Agent is used in collaboration with your computer to register the device. The agent assists in connecting the device to Atmosphere by searching your computer for any compatible device connected to it from an available communication port. While the agent is running, a device with Atmosphere firmware installed on it can be registered to Atmosphere directly without the assistance from an additional connection like BLE or Wi-Fi. This process is also referred to as "UART registration."
With the prerequisites setup, the device can be registered.
To register a device:
Navigate to the Devices area, and click the button in the top-right of the screen to display the Scan window. When the window opens it automatically starts scanning for available devices within range.

Only supported hardware with Atmosphere firmware installed will be displayed.
For BLE devices, ensure your device is within range from the mobile device you are attempting to register from, otherwise it may not appear.

The list of available devices appears in the table. This includes the device type, project name, signal strength, and supported protocols. Select the device you want then click Register.

If the device you're looking for is not displayed, no devices were found, or you want to refresh the list, click the button to rescan for devices.
If the device supports Wi-Fi, you can configure Wi-Fi network settings at this point. If Wi-Fi settings are entered, the device will connect to Atmosphere over Wi-Fi and remain connected as long as the Wi-Fi connection is maintained.

The device is registered to Atmosphere and displayed on the page.
Sending Device Data to Atmosphere
A device that's registered doesn't necessitate its data will be sent to Atmosphere on its own. In order for a device to have its data sent to Atmosphere, its project must use Studio's
Device Event element to integrate the cloud connectivity. This enables the device to send any data designated to go through the Device Event element to Atmosphere.
Note that the Device Event element only sends data to Atmosphere; if you want the data stored, a
cloud storage element is needed. Connecting a Device Event element to a cloud storage element ensures the data sent to Atmosphere will be stored and able to be used in dashboards, device storage areas, and more.
To see how Device Event and cloud storage elements work together, check out any of the many getting started guides available. Each of them incorporate these elements to send and store device data on Atmosphere.
Deleting Devices
Deleting a device unregisters it from Atmosphere, which removes it from the platform and stops any data being shown from it on any dashboards.
To delete a device:
Navigate to the Devices area, and select the device you want to delete in the table by clicking on its checkbox.
Click the button above the table to display the action menu, then choose Delete. You'll be prompted to confirm you want to delete the selected device. Click Delete to confirm.
The device is then deleted from Atmosphere. It can be registered again at any time. Alternatively, you can delete a device directly from that device's console.
If a registered device is re-programmed with new firmware, it needs to be deleted and then registered again for the firmware updates to take effect.
---