MAX32630 Feather
The MAX32630 Feather is a development board from Maxim Integrated based on the MAX32630 ARM Cortex-M4F microcontroller. The board is compatible with Adafruit Feather boards and most FeatherWings to maximize its capabilities, and comes with a number of onboard periperhals, as well as a six-axis inertial sensor and RGB LED.
Project Specifics
MAX32630 Feather projects start with the following sensor elements imported from the Element Library:
Hardware Specifics
Some devices may have limitations or design restrictions that cause unexpected behavior when used with Atmosphere. Specific information and details pertaining to the MAX32630 Feather and its performance on Atmosphere is noted below.
All analog pins have a reference voltage of 1.8v
A micro SD card is required for this platform to run properly. The Maxim Feather has no onboard storage. There is a micro SD card slot on the underside of the device.
Default Pin Mapping
Atmosphere configures each peripheral to a default pin for every supported device, based on ideal pairing of pins and their usage. The default pin configuration is set for convenience and enables each peripheral to work naturally without needing to be modified.
All pins can be used as general purpose input/output (GPIO) unless otherwise specified.
MAX32630 Feather projects start with the following pin configuration:
Pin Table
| Pin | Description | Notes |
| --- | --- | --- |
| AIN0 | Analog Input 0 |   |
| AIN1 | Analog Input 1 |   |
| AIN2 | Analog Input 2 |   |
| AIN3 | Analog Input 3 |   |
This kit has no pin labels, so use the internal pin port and number to reference the pin.
Internal MAX32630 Feather
The MAX32630 Feather is compiled using the MBED SDK. Each GPIO pin can be accessed using the following nomenclature: P[PORT]_[PIN]. For example, Port 5 Pin 7 (I2C2 SDA) can be accessed with P5_7.
The default pin for any peripheral can be changed within an element's properties, from an element that references that particular peripheral.
Peripherals
Below is information regarding the [Name]'s exposed peripherals.
I2C
I2C1
This I2C bus is exposed via P3_5(SCL) and P3_4(SDA).
I2C2
This I2C bus is exposed via P5_7(SDA) and P6_0(SCL). It is shared with the BMI160 and MAX14690.
SPI
SPI1
This SPI bus is exposed via P4_4(SCK), P4_5(MOSI) and P4_6(MISO).
UART
UART1 (USB Debug Console)
This UART is exposed via the USB connector.
UART2
This UART is exposed via pins P3_0(RX) and P3_1(TX).
PWM
All GPIO pins can be used as PWM outputs.
Programming Method
Programming the MAX32630 Feather involves downloading its project firmware from Atmosphere Studio and directly transferring it to the device over USB. However, unlike many devices supported in Atmosphere, the MAX32630 Feather doesn't contain a built-in programmer. Instead you must use a MAXREFDES100HDK Programming Adapter or external DAPLink to program the device.
Setup Configuration
In order to program a MAX32630 Feather, ensure you have the following initial setup configuration:
Connect the fine 10-pin ribbon from the SWD (J3) header on the MAXREFDES100HDK to J4 on the MAX32630 Feather.
Connect the MAX32630 Feather to a power source via micro USB.
Connect the MAXREFDES100HDK to the computer via its micro USB connector labeled HDK.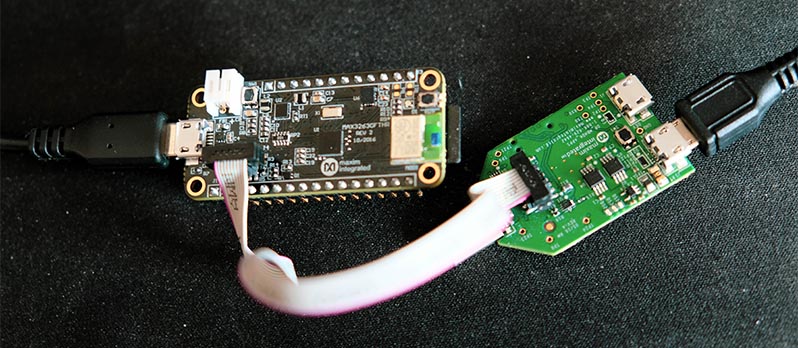 When connected, the MAXREFDES100HDK will expose itself as a drive labeled "DAPLink."
You may need to update the board's native firmware in order to program the MAX32630. For information on performing a firmware update, see the official MBED MAXREFDES100HDK docs.
With the initial setup finished, complete the remaining setup configuration steps:
The MAX32630 Feather is connected to the computer via USB.
The project to be programmed has been compiled.
Programming Instructions
With setup complete, you can program your MAX32630 Feather:
From Atmosphere Studio's Embedded tab, click the button from the tab's toolbar. This downloads a .bin file containing the project's compiled firmware.
Locate the downloaded file on your computer, and move it into the DAPLink drive. This initiates programming of the MAX32630 Feather.
Once programming is finished, the DAPLink drive will unmount and then mount again indicating programming is complete. Then press the board's reset button to start your application.
When complete, the MAX32630 Feather is programmed with the project's embedded firmware.
Guides and Tutorials
Get started using the MAX32630 Feather with Atmosphere by walking through the following guides:
Demo Projects
Atmosphere includes a variety of MAX32630 Feather demo projects for users of all levels. Check them out by clicking the demo's name to open the project in Atmosphere.
| Name | Description |
| --- | --- |
| MAX32630 Feather Demo | A complete demo that showcases the onboard Accelerometer/Gyroscope and ADC of the SensorTile. Measure ADC value on AIN_0 and send it to the cloud. Measure motion data and send to app. |
| Comparison Element Chain Demo | The comparison element is used within this advanced demo project by chaining of comparison elements to create a "Logical And." This demo lights the blue LED on the MAX32630 Feather board whenever the app's slider value is between 10 and 20. |
Videos
The Atmosphere video library contains the following videos on the MAX32630 Feather:
Resources
The following additional resources and downloadable files are available for the MAX32630 Feather:
---