Projects
When you visit Atmosphere IoT Studio for the first time in a session, you are brought to the Studio Projects screen.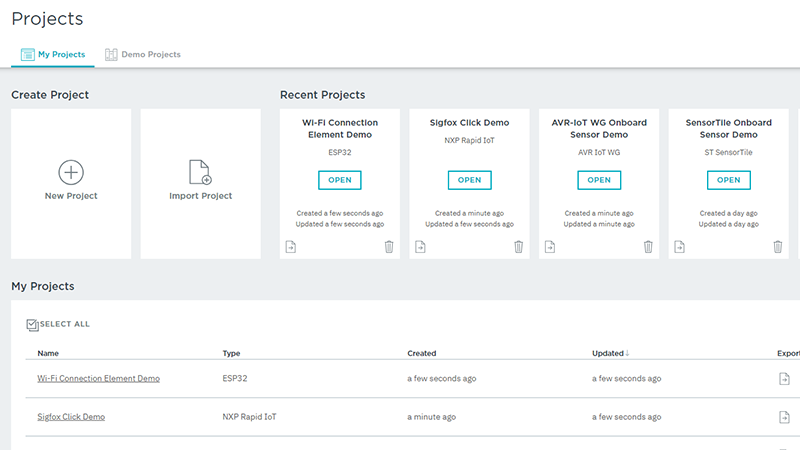 From the Projects screen, you can create a new Atmosphere project, open an existing project or demo project, import an Atmosphere project, and export project source files.
If you have no saved Atmosphere projects under your account, only the create and import options are available.
Creating Projects
To create an Atmosphere project, click the
button. This displays a New Project window.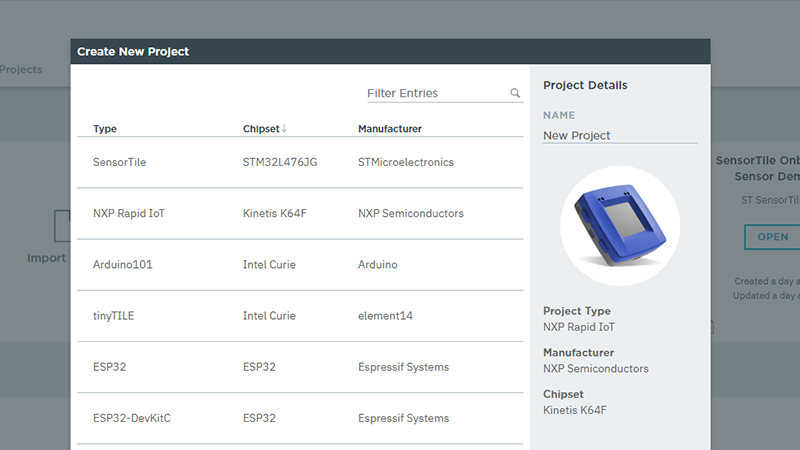 Select the type of project you're creating, and give the project a name. The project types are based on the hardware compatible with Atmosphere. With a project type selected and name provided, click Create to create the project and enter Atmosphere IoT Studio.
For information on the wide selection of hardware and their project types, visit Supported Devices.
Opening Projects
Projects can be opened from the Recent Projects area or from the Project List table. Only one Atmosphere project can be open at a time.
To open a recent project, click Open on the project's box. To open a project from the Project List, click on the project's name in the table.
Exporting Projects
Projects can be exported, which allows you to continue development outside of Atmosphere. To export a project, click the
button on either its box in the Recent Projects area or within the My Projects table.
An exported Atmosphere project includes the following in a package:
Project embedded source code
Project firmware files
Project "Atmo" file, which contains the entire Atmosphere project and can be imported back into Atmosphere. Atmo files use the .atmo extension.
If a custom product project is exported, it will only include the project's Atmo file.
Importing Projects
Atmosphere projects can be imported into Studio, and importing is a common method to try guide and example projects.
To import an Atmosphere project, click the
button. In the File window, select an Atmo file on your computer and click Open. This opens the Atmosphere project in Studio.
---